Bronco is the Best of the Best
Jan 31, 2023 - 2 minute read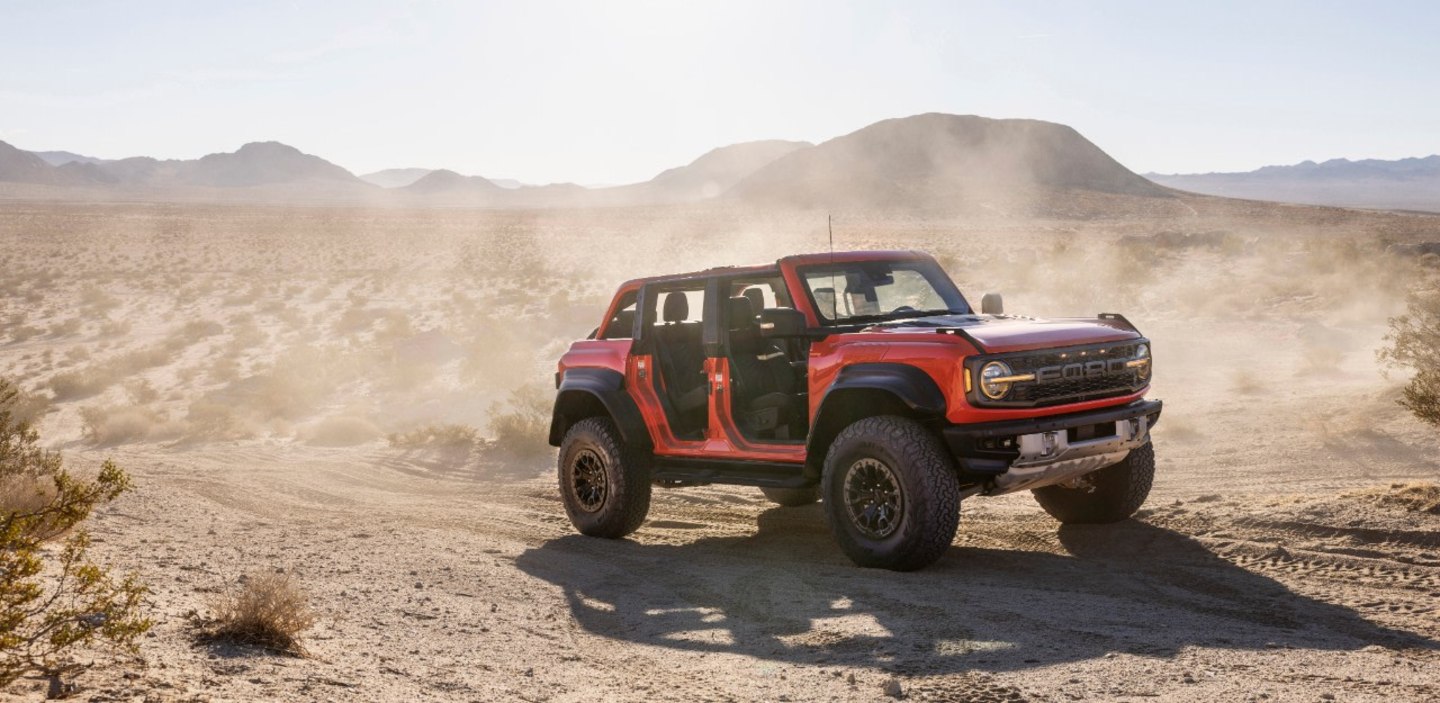 J.C. Lewis Ford continues to be the leader in Bronco sales and service. And Bronco continues to be named the best of the best.
2023 Ford Bronco and 2023 Ford Maverick have been recognized by Car and Driver in the "10Best Trucks and SUV's" list. For Bronco, it marks the second consecutive year appearing on a "10Best" list. The vehicles were reviewed on a 100-point scale by Car and Driver editors and selected based on the publication's criteria: delivering on the vehicle's intended purpose better than its competition, offering great value, and entertaining to drive.
"It's an honor to see Maverick and Bronco receive this recognition," said Jim Baumbick, vice president, Ford product development operations, cycle planning and internal combustion engine programs. "Both vehicles are the result of intensely focusing on meeting customer needs and providing iconic vehicles they love to drive."
Ford Bronco – "Although the hype is passing and Broncos are now a common sight, we're still smitten with this SUV, which combines supreme open-air off-road chops with tolerable highway manners. Recent additions to the lineup include the retro Heritage model, the swamp-creature Everglades, and the all-conquering Raptor, which hits 60 mph in 5.6 seconds and comes with tires that would do it proud at the King of the Hammers competition. Minimalists can get a four-cylinder two-door model with steel wheels. Realists might go for a four-door Outer Banks and its on-pavement civility. And survivalists can park an Everglades, with its winch and snorkel, at their bug-out compound. All those models share a commitment to fun, an attitude that driving ought to be a good time. A Bronco is supposed to deliver a little spark of excitement every time you fire it up. And in its third model year, it definitely still does." 
The packages for the Bronco have continued to expand in addition to its features and benefits. "For adventurers who want to get more from their Bronco Sport, we're enhancing the ownership experience by offering more trail capability with the new Black Diamond Off-Road Package, plus an included opportunity to learn what their SUV can do at Bronco Off-Roadeo," said Mark Grueber, Enthusiast Vehicle Marketing Manager. "Today, nearly 90% of Bronco Sport customers that attend Off-Roadeo are likely to go off-roading again, and 97% of customers are more knowledgeable and confident doing so, furthering our goal of getting into the wild."  
The Black Diamond Off-Road Package – available on Big Bend and Outer Banks series – delivers even more off-road capability by adding four steel bash plates covering key 4x4 powertrain areas including, front metal skid plate, fuel tank protection and the canister shield. Unique 17-in Carbonized Gray low-gloss aluminum wheels feature 225/65R17 all-terrain tires for added grip. For bold style, the package adds a matte black hood graphic with small Bronco horse logo, plus lower bodyside graphics with Bronco lettering on driver and front-passenger doors.
Contact J.C. Lewis Ford Statesboro for your Ford Bronco experience, 912. 225.4790.