Bronco Wins King of the Hammers
Mar 03, 2022 - 4 minute read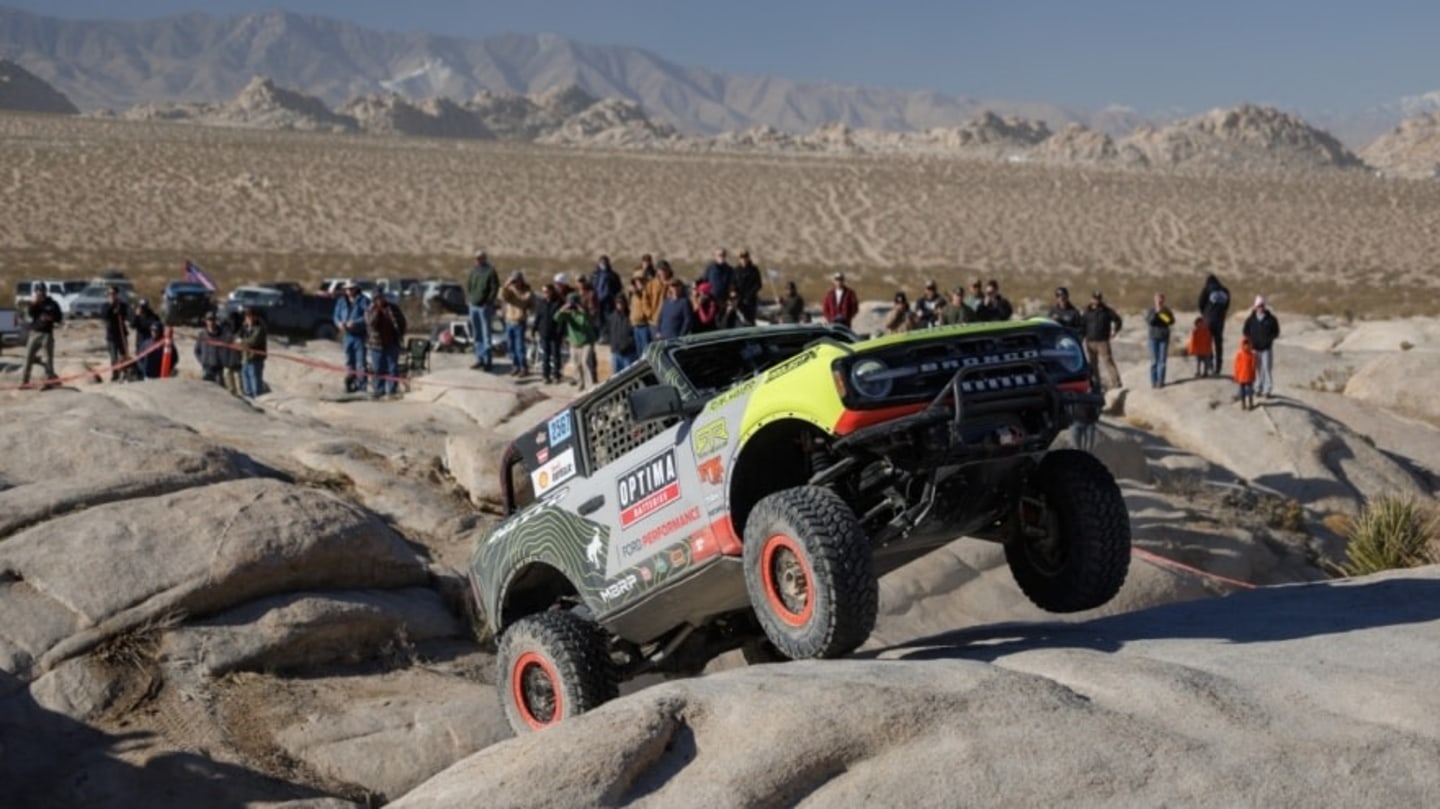 With a podium-sweep at the 2022 King of the Hammers, and nearly one-year-to-the-day from the vehicle's debut at the very race weekend, Bronco Brand and Ford Performance are solidifying the Built Wild off-road racing legacy of the Bronco 4600 stock class race vehicles.
Bronco Raptor, just revealed to the world on Jan. 24, was onsite in Hammertown to witness victory by the very race trucks that led to its creation. Bronco Raptor is equipped with elite off-road technology and hardware inspired by the challenging Ultra4 Off-Road Racing Series.
"With a commanding 1-2-3 finish at the King of the Hammers Ultra4 stock-class race, Bronco Brand and Ford Performance are proving that Built Wild capability, durability and innovative design are second to none," said Mark Rushbrook, Ford Performance Motorsports global director. "Our Bronco 4600 racers continue to elevate our motorsports heritage and further underscore how Bronco models can be tuned from the showroom floor to compete in the grueling ULTRA4 stock class series."
Ultra4 Racing is the epitome of grueling off-road competition, and the famed King of the Hammers in the Johnson Valley in California is one of the most difficult and extreme off-road competitions in the world. And with a clear 1-2-3 sweep in the ULTRA4 4600 stock-class, it's clear that Bronco brand and it's drivers are thriving in this desert it was born for.
Winning the ULTRA4 4600 stock-class was the team of Vaughn Gittin Jr. and Loren Healey in the No. 2567 Bronco 4600, while the team of Brad Lovell and his brother Roger Lovell in the No. 4621 Bronco 4600 placed second, and Bailey Cole and Jason Scherer placed third in the No. 13 Bronco 4600 today.
Each of the podium-winning Bronco 4600 race vehicles are built from factory stock Bronco two-door SUV chassis and powered by race-bred 2.7-liter EcoBoost® V6 engine with competition-tuned High-Performance Off-Road Stability Suspension (HOSS) System. The same Built Wild innovative design and durability testing that went into the Bronco two- and four-door SUVs is inherent in Bronco 4600 race vehicle, which serves as a test bed for Ford Performance parts and accessories.
The next step in Built Wild off-road racing Like the first-generation Bronco that took the 1969 Baja 1000 outright, Bronco 4600 builds on this winning tradition starting with a Bronco two-door SUV with stock powertrain running on a competition-tuned High-Performance Off-Road Stability Suspension (HOSS) System.
Built on a Bronco two-door with Sasquatch™ Package, Bronco 4600 utilizes race-tested production 2.7-liter EcoBoost twin-turbo V6, SelectShift® 10-speed automatic and second-generation T-6 chassis. It serves as a test bed for a growing list of Ford Licensed Accessories and Ford Performance parts alongside the independent performance aftermarket.
Taking learnings from the Bronco R Race Prototype that ran the 2019 and 2020 Baja 1000, the Bronco 4600's competition-tuned high-performance off-road stability suspension features Fox coil over shocks with remote reservoirs and Fox pneumatic bump stops at all four corners. It also features Wilwood Engineering brakes and 35-inch BFGoodrich® mud-terrain T/A® KM3 tires mounted to Method Race Wheels 202 Forged Beadlock wheels.
Heavy-duty front portal hubs from 74 Weld are mounted to Triton Engineering control arms with heavy-duty Howe hydraulic steering rack with cooler. A factory Dana™ AdvanTEK e-locking differential with RCV custom half-shafts deliver front wheel torque. In back, Triton Engineering rear links support a Dynatrac ProRock XD60® axle with an ARB 35-spline Air Locker® and Spidertrax Spider 9™ axle shafts and hubs. Ford Performance supplies modified front and rear modular steel bumpers and a Warn® ZEON® winch, while RIGID® LED off-road lights improve night vision. A custom roll cage by Geiser Brothers and first-ever FIA off-road-certified race shells from Recaro® are added inside.
Bronco 4600 series teams feature an all-star lineup of off-road racing veterans, including Fun-Haver teammates Vaughn Gittin Jr. and two-time King of the Hammers champion Loren Healy. In addition, a Bronco 4600 will be driven by teammates Jason Scherer, a three-time King of the Hammers champion and Bailey Cole, seasoned racer in ULTRA4 and Score Baja 1000 winner in class. A third Bronco 4600 race team includes Brad Lovell, who has won championships in ULTRA4, and his brother Roger Lovell, a professional engineer who has used his talents in off-road design and also has multiple off-road racing wins and championships.
Official truck and SUV of ULTRA4 and SCORE off-road racing Bronco brand and Ford's collaboration with ULTRA4 signals a growing presence in the off-road enthusiast realm. Recently, Ford stepped up to serve as official truck and SUV of SCORE-International Off-Road Racing, which holds the Baja 500, Baja 1000 and San Felipe 250 championships. Ford also serves as official vehicle of Best in the Desert.
To learn more about 2022 Bronco two-, four-door and Bronco Sport models, contact your local Bronco Experts at J.C. Lewis Ford, 912.210.5677.